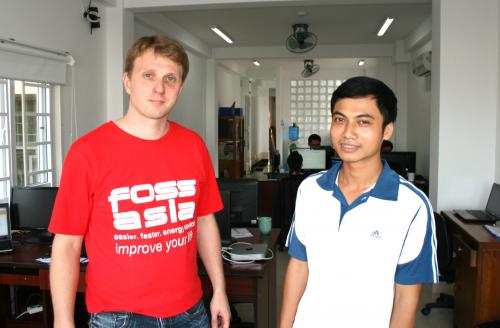 Mario Behling and Thanh Nguyen working on freifunk.net in Vietnam 
It took us a few days to figure out how to make it work for us. Some errors like an issue with sharing just came up, because we had not activated clean URLs, other errors, because the different servers we use run slightly different MySQL versions with the one the site is hosted on. Initially we wanted to update the previous site with the new profile. This worked generally, but some features just did not want to get working. The Managing News installation profile has a number of preconfigured modules. After taking a week trying to figure it out, we went back to the start and took another way. We chose to use a fresh install and moved the content of the previous site with the node exporter module. While the old content does not show up in the history anymore now, it can still be found through the search.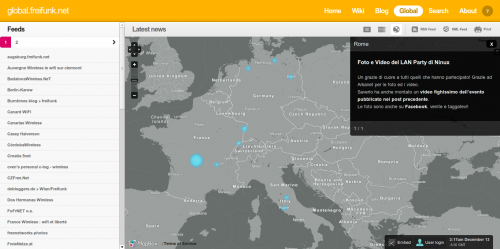 To geolocate places in articles we use 
Yahoo Placemaker
, which seems to give a good outcome when tagging places in articles. As we have a rather large number of feeds that need to be checked and updated, we need to run cron every few minutes in order to avoid time outs.
Previously, we also had a special 
German news site
 focusing on the German speaking freifunk community. As hits on this website have been rather low over the last two years, we have closed that site and redirected it to the international news site saving us time to focus on one system.
So, here it is, the new 
Freifunk News Site
. One thing I personally like is the embed feature that lets you embed any feed into your site. Please check it out and tell us which cool new features you like.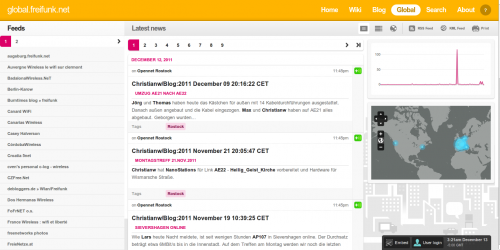 If you would like us to include your feed, please add it to the 
wiki page
 on the freifunk wiki. We will check here from time to time and add feeds to the newswire.
Links:
* http://global.freifunk.net
* http://managingnews.com
* http://in-berlin.de
* http://wiki.freifunk.net/Global.freifunk.net