Freifunker Rene (ursprünglich aus
Rostock) ist schon seit einer Weile in Indien unterwegs. Nun hat er ein Interview
mit "The Hindu" gegeben und berichtet über seine "Free Wireless"-Aktivitäten und die Idee hinter Freifunk.
"The idea is to network neighbourhoods wirelessly using consumer equipment and share broadband Internet over it. This 'infrastructure idea' has great potential in the world's rural and semi-urban areas where broadband Internet has not caught up," explains René.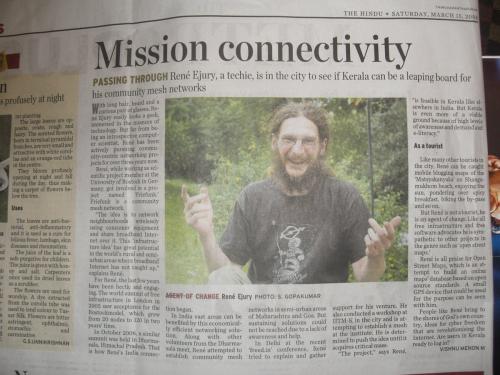 (Mission Connectivity, The Hindu, 15.3.2008, Vishnu Menom M, http://www.hindu.com/mp/2008/03/15/stories/2008031552030200.htm)
Und er selbst zeigt sich auch ganz erfreut darüber, was herausgekommen ist bei dem Interview.
Großartig, und diesmal wirklich und ehrlich, war mein letzter Presse-Auftritt. Kam neulich ne email mit ner anfrage ob ich nich ein Interview für die Wochenendbeilage von 'Hindu' geben kann. Wenn sich Pressefritzen melden werd ich natürlich skeptisch, aber die Zeitung ist gut, wohl die brauchbarste Tageszeitung hier, also zugesagt. Dann mit Vishnu getroffen der von Gopal – den ich neulich in Delhi getroffen hatte – über mich erfahren hatte. Netzwerke. Funktionieren. Und, Vishnu ist ein angenehmer Zeitgenosse. Er studiert Elektro-Engineering und schreibt nebenbei für die Zeitung, um später mal nachweisen zu können das er mehr als Elektrobasteln kann. Und gut hat er das gemacht, wow. Okok, ein paar kleine Details kommen nicht hin, aber was solls. Und wieso hab ich eigentlich ne skurrile Brille? (http://blog.absorb.it/2008/03/15/mission-connectivity/)