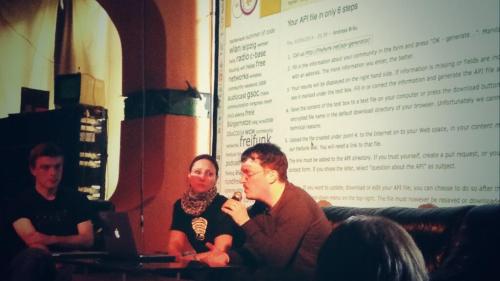 Photo taken from https://twitter.com/christianheise/status/472746947569520641
From the 29th May to the 1st of June we were with Andi and Bernd from Weimarnetz at the wunderful c-base Raumstation. We visited the Wireless Community Weekend. It was my first experience of this kind of community event and I enjoyed it very much.
Beer and Bratwurst did harmonize quite well with technical talks about OpenWrt and the Freifunk Community. I was especially surprised how diverse and open the community is and how enthusiastic everyone involved was.
Andi and Monic talked about the progress on the Freifunk API and presented their work. At the end of their talk I had the chance to present my work on the query client for the API. Here are the slides.
Shortly after the talk Jürgen Neumann from Freifunk Berlin came to me and introduced me to DeepaMehta. My original plan was to use something like NodeJS for the backend the storage of the API data but DeepaMehta looked promising and offers unique features I didn't even thought off.
So after talking with Andi about it we decided to use DeepaMehta as the foundation and storage tool for the API data. A seperate blogpost for the GSoC midterm evaluation will outline my work in this direction.
Overall it was a very exciting weekend for me at #ffwcw 2014.