The countdown for the Freifunk Wireless Community Weekend 2008 conference is running and cven is haevily working on the final preparation.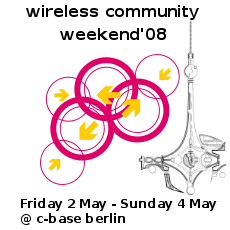 As of now we have 48 people who have put their name on the participants list on the wiki at http://wiki.freifunk.net/WCW08:participants and many more who have confirmed their participation to us directly. People are joining us in the upcoming days from Freifunk communities from all over Germany and from communities in other countries. Our friends from Italy will be represented by the two well known free wireless evangelists Nino and Saverio from ninux.org and we expect Jesper Svarre from Denmark with a group of 25 people from the Association of Computer Professionals.
The WCW is a self organized conference and community gathering. We will have a community track with communities presenting themselves, e.g. from Bastian from the Weimar Freifunkers and from Keks from the community in Berlin North-East.
On the other side there will be technical talks from developers of OpenWRT, the B.A.T.M.A.N. routing protocol developers Marek Lindner and Simon Wunderlich; Thomas Hirsch – the developer of the freimap and a presentation of sven-ola – the main developer of the Freifunk Firmware,
Further panels cover subjects like Web 2.0 in the Freifunk Universe (by me, Mario Behling) or Open Networks and the current law by Dr. Reto Mantz, who has recently published a book on "Offene Netze und Recht",
Many opportunities to meet with some of the most exciting people in the international freifunk sphere! Open Mesh advocat Electra will take part in the WCW and after returning from the Open Tech Summit in Taiwan Juergen Neumann will present the latest advancements on Open Wireless Hardware. 
Last but not least we are happy to welcome participants from the academic scene coming from the TU Berlin and the Fraunhofer FOKUS Institute.
Join us at the Freifunki Wireless Community Weekend in Berlin from May 2-4! Check out the latest updates on http://wiki.freifunk.net/Wireless_Community_Weekend_2008