Google nutzt für viele seiner Dienste OpenSource-Software. Mit dem Google Summer of Code möchte sich Google bei der OpenSource-Gemeinde bedanken und fördert Studenten für ein von Mai bis August laufendes Projekt mit 5500 US$ – in diesem Jahr über 1100 Studenten aus aller Welt.
Im Jahr 2014 nahm Freifunk wieder am Google Summer of Code teil. Freifunk integriert dabei als Dachorganisation weltweit Initiativen wie guifi.net, ninux.org, wlan slovenija und LibreMesh aus Argentinien. Wir bekamen in diesem Jahr 9 Slots für Projekte, die Studenten in Deutschland, Frankreich, Italien, Spanien und Slowenien bearbeiteten. Die Projekte beschäftigten sich u.a. mit der Freifunk-API, Netzwerkprotokollen und Software zum Communitymanagement. Im Freifunkblog können Details zu den Projekten nachgelesen werden.
Den Abschluss des diesjährigen Google Summer of Code bildete der Mentors Summit, zu dem jede Organisation zwei Mentoren entsenden darf. Zur Feier des 10-jährige Bestehens waren auch Teilnehmer aus den vergangegen Jahren eingeladen und der Summit wurde um einen Tag verlängert.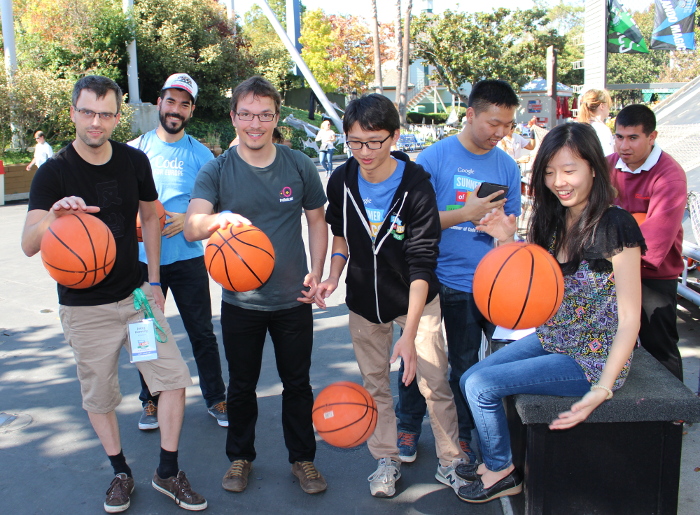 Auf dem Programm stand auch ein Ausflug, wo wir das echte Amerika kennenlernten und gemeinsam mit Teilnehmern aus China und Vietnam Basketball trainierten.
Mehr als 600 Teilnehmer aus aller Welt trafen sich in San Jose, Kalifornien, und wir hatten die Chance uns über unsere Projekte auszutauschen, neue Kontakte zu knüpfen und nicht zuletzt den 10. Google Summer of Code zu feiern. Als Überraschungsgast zum Jubiläumsempfang war Linus Torvalds geladen. In einem Treffen hatten wir die Gelegenheit, mit ihm über Freifunk zu sprechen.
Ideen für Projekte im Jahr 2015 können schon jetzt im Wiki eingetragen werden. Falls ihr Kontakte zu Universitäten oder Fachhochschulen habt, sprecht mit Dozenten, Studenten oder Lehrstuhlinhabern, um Unterstützung für Projekte im Sommersemester 2015 zu bekommen.
Links
Projektideen http://wiki.freifunk.net/Ideas
Fotos zum Mentor Summit: https://www.flickr.com/search/?tags=gsoc14